In the realm of rolling stock manufacturing, the delicate balance between quality and cost-effectiveness is paramount. This equilibrium is precisely where AirDIV's Fabric Expansion Joints (Compensators) shine, providing rolling stock manufacturers with top-notch quality and competitive pricing.
(Are you looking for Fabric Expansion Joints (Compensators) or other types of air ducts for interior use? Click here to learn more.)
Understanding Fabric Expansion Joints
Fabric expansion joints are integral for facilitating movement and tolerance compensation in exterior HVAC air duct systems.
AirDIV's Fabric Expansion Joints stand out as a high-performance, flexible solution designed to meet the unique challenges posed by rail vehicles.
These joints not only offer customized geometries to address extreme installation situations but also boast a range of features that make them a preferred choice whether for rolling stock manufacturers or manufacturers of HVAC units for railway vehicles.
Key Features of AirDIV Fabric Expansion Joints
1. Customized Geometry for Versatility
AirDIV's Fabric Expansion Joints are engineered to accommodate asymmetric geometries, providing versatility in installation scenarios.
2. Certified Fire Safety Standards
Compliant with international railway fire safety standards, including EN 45545-2 R1 HL2 or HL3 and NPFA130, these fabric expansion joints prioritize passenger safety.
3. Incorporation of Additional Insulating Materials
To avoid thermal bridges, AirDIV can offer the option to incorporate additional insulating materials, enhancing the overall efficiency of the railway HVAC system.
4. Durable Construction
The Fabric Expansion Joints are constructed to be very durable, ensuring longevity in outdoor environments.
5. Temperature and Weather Resistance
With a temperature resistance ranging from -50 °C to +100 °C, these joints are designed to withstand diverse weather conditions.
6. Sealed Stainless-Steel or Aluminum Flanges
The joints are equipped with metal flanges made of either stainless steel or aluminum, ensuring a secure and reliable connection. In addition, it is possible to equip the metal flanges with gaskets of different thicknesses and hardnesses (°ShA) according to the customer's requirements.
7. Noise Elimination
AirDIV's Fabric Expansion Joints effectively eliminate noise transfer, contributing to a quieter and more comfortable passenger experience.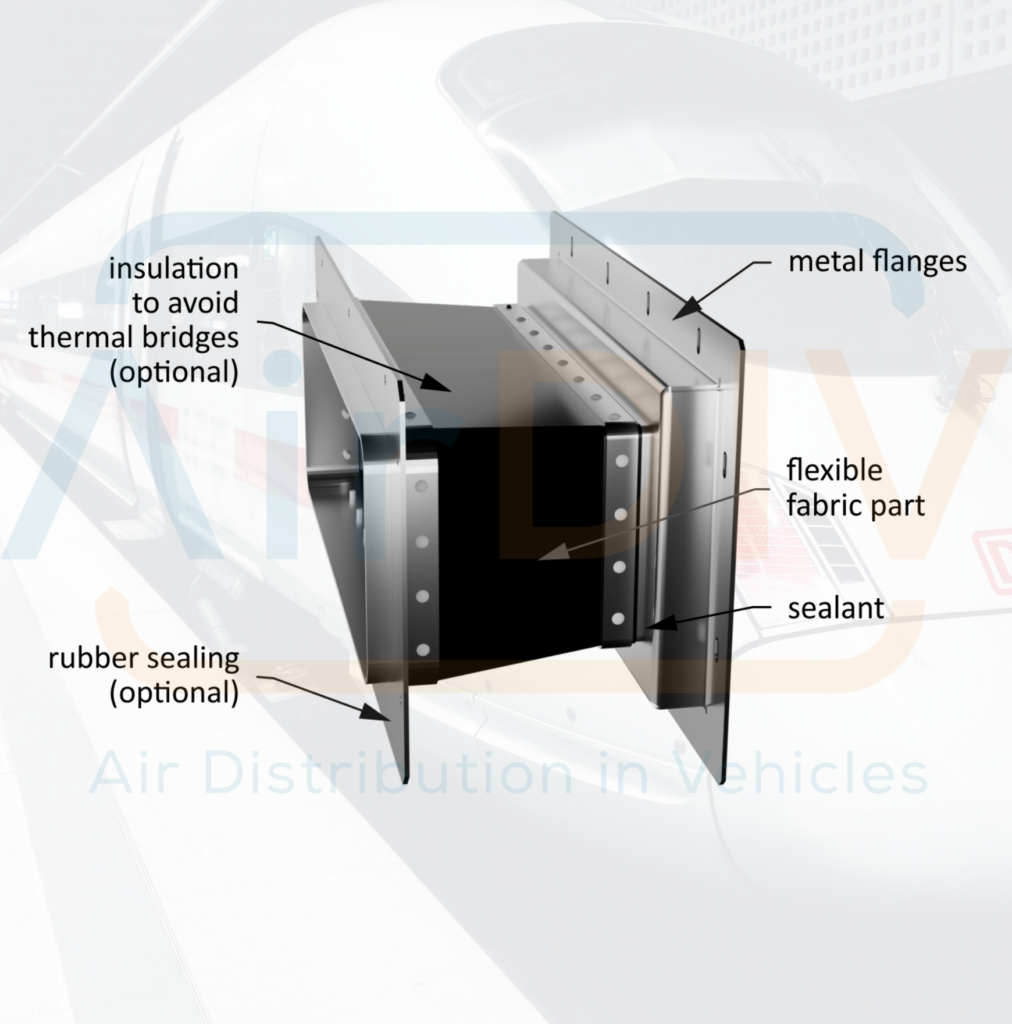 Contact AirDIV:
As a specialist in air distribution systems for railway vehicles, AirDIV continues with its mission to promote a pleasant indoor climate for passengers in vehicles, improve their day, and provide customers with top-notch technology and services with its durable Fabric Expansion Joints for outdoor environments.
The commitment to great customer service, coupled with a long-term focus on developing products that offer customization, durability, and adherence to stringent safety standards, positions AirDIV as a reliable partner for rolling stock manufacturers seeking cutting-edge solutions for their outdoor HVAC systems.
We invite you to reach out to our experts at AirDIV. Our sales engineers will advise and work closely with you to design the right product for your application. As an AirDIV customer, you benefit from direct consultation, many years of experience, and the know-how of our experts.
Want more information? Download the Fabric Expansion Joints PDF product sheet here.
CALL US
+420 469 315 801
SEND US AN E-MAIL
Let AirDIV be your partner in shaping the future of rolling stock ventilation with durable, functional, and sustainable Fabric Expansion Joints. Your journey begins with a conversation with our experts.